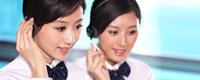 Name: JACK
Tel: +86-574-87301282
Fax: +86-574-87301292
E-mail: info@shonemedicalsupply.com
Add: NO 388 Huixian Road Haishu NINGBO CITY , CHINA


Product name : Disposable Condom Urine Silicone Catheter for Male

Product No. : SH-MUCD
Details:
MALE SILICONE EXTERAL SELFADHESIVE CATHETER
External Catheter is made of natural latex of high quality with tier assembling technology and will not be sold out before sterilization by EO. The product is divided into ordinary model and calabash-like model type, the type are extra-large-size (XL), large-size (L), medium-size(M) and small-size(S). According to allergy, skin stimulate test, the product is of no side effect to human body.
All parts adopt the medical material which conforms to the requirements, it is asepsis, innocuity, no pyrogen after sterilized, it is convenient to use. It has no cross infection because of single use.

1. Position over tip of penis then unroll the latex sleeve over entire length;
2. Use adhesive strap around top of sleeve to secure to penis avoiding constriction;
Affix distal end to drainage tubing.
3.Our core technology is in the fabrication of devices from 100 percent silicone.
4.Also with self- adhesive to ensure the safety and versatility.


| | |
| --- | --- |
| Item number | Diamter |
| SH-MC01 | 24mm |
| SH-MC02 | 28mm |
| SH-MC03 | 31mm |
| SH-MC04 | 35mm |
| SH-MC05 | 40mm |