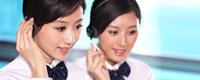 Name: JACK
Tel: +86-574-87301282
Fax: +86-574-87301292
E-mail: info@shonemedicalsupply.com
Add: NO 388 Huixian Road Haishu NINGBO CITY , CHINA


Product name : Needle Free Injection Port

Product No. : 2017329111010
Details:
Needle Free Injection Port


Product Description
:
1. With latest and safe transfusion philosophy, needle free for both drug delivery and sampling.
2. The needle-free connector will keep closed and aseptic while not connecting with any other connector. The positive tip of the connector could be connector with other connector freely.
3. When pulling the needle out, the piston will supply a postive pressure towards vascular access continually ,and it will prevent blood reflux, thrombus formation and clotting block.
4. It is with powerful anti-infection ability.
5. Positive pressure prevent catheter block and aeroembolism .
6. Patent design of positive pressure avoids back flow of blood during removal of syringe.This will help to prevent blood clot at the calther tip inside the blood vessel.
7. High quality silicone valve allows multiple insertion at the injection port without leakage.
8.Metal-free & MRI-compatible
Application Scope:
it is used for sealing the connector for venous transfusion.it is also could be used for transfusion by injection window when the connector is closed,which will keep the transfusion system safe and clean.
| | |
| --- | --- |
| product name | Needle Free Injection Port/Y Injection Set |
| Material: | body with medical PC,plug with medical silicon |
| Type | Infusion Set |
| Sterile | EO gas sterile |
| Caution | Disposable, for single use only |