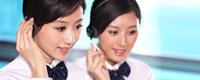 Name: JACK
Tel: +86-574-87301282
Fax: +86-574-87301292
E-mail: info@shonemedicalsupply.com
Add: NO 388 Huixian Road Haishu NINGBO CITY , CHINA


Product name : Dental Floss

Product No. : SH-DF
Details:
Product Description
Unique design Dental Floss stick
Products specifications
1.
1,Gently slide the floss between the teeth with a careful sawing motion(back and forth, up and down motion) until it reaches the gum line.
2. Smoothly use dental flosspicks to clean interspaces between teeth without shredding or stretching and enjoy flossing with strong mint flavour which is active for freshening up a smell of the mouth.
3. Flosspicks with free travel sleeve are designed to efficiently remove plaque, tartar and food debris build-up from between the teeth and along the gum line to help prevent gum disease(tooth decay,gingivitis,etc). Free travel sleeve included for convenience and portability.
4. The tip of the flosspick can be used as a toothpick and stimulate gums.
5. Help keep teeth and gums clean and healthy.
6. Do bulk or individual packing as per clients' requirements.
7. Popular for restaurants, hotels, airlines, hospital, dentist clinic markets
Product Features
1,100% Made in China
2,Material : ABS, HIPS
3,Floss : Polyester PE, HMWPE
4,Dimension : 75 x 16 x 2.5 mm
5,OEM, ODM Available
6,SGS Certified : 3KG Tension Test
7,Safe materials could be used for food : Standard of Food and Drug Administration (FDA)
Item number

QTY/(Bag or box)

C

olor of handing pole

SH-DF01

20,30,50,80

W

hite,yellow,blue,pink,Green

SH-DF02

20,30,50,80

W

hite,yellow,blue,pink,Green

SH-DF03

20,30,50,80

W

hite,yellow,blue,pink,Green

SH-DF03

20,30,50,80

W

hite,yellow,blue,pink,Green