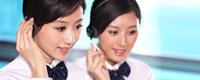 Name: JACK
Tel: +86-574-87301282
Fax: +86-574-87301292
E-mail: info@shonemedicalsupply.com
Add: NO 388 Huixian Road Haishu NINGBO CITY , CHINA


Product name : Disposable Cuffed Nasal Preformed Endotracheal Tube

Product No. : SH-ABT-01
Details:
Reinforced disposable endotracheal tube, major surgical instruments
1. An endotracheal tube is a flexible plastic tube that is placed through the mouth into the trachea (windpipe) to help a patient breathe. The endotracheal tube is then connected to a ventilator, which delivers oxygen to the lungs.
2. An endotracheal tube may be placed when a patient is unable to breathe on her own, due to a medical emergency, serious illness, or during surgery when a general anesthetic is used.
3. Made of medical grade PVC+ superb stainless steel spring
4. With High transparency and lubricated smooth
5. Atraumatic rounded tip(Beveled tip) + Atraumatic murphy eyes(Softly rounded) or Magill type available
6. High volume low pressure cuff and Low profile cuff available
7. Sterile packaging by EO+ X-ray opaque line for accurate placement
8. CE, FDA, ISO approved + DEHP FREE available
Product Name

Reinforced Cuffed Endotracheal Tube

Model No.

RCET

Material

PVC/ Silicone +superb stainless steel

Size

(

Fr)

2.0-10.0

Sterilization Method

EO gas

Use

For oral or nasal intubation

Type

Endotracheal/Tracheostomy

Disposable or reuseable

Single Use

Reinforced

Yes

DEHP FREE

YES

Certification

CE,FDA,

Tip

Atraumatic rounded beveled tip

Murthy Eyes

Atraumatic, Softly rounded

Age

Adult/Child/Infant

Supply type

OEM&ODM

Packaging

1pc/pouch,10pcs/box, 100pcs/ctn

Vol.

42*38*32cm