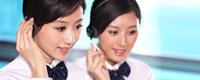 Name: JACK
Tel: +86-574-87301282
Fax: +86-574-87301292
E-mail: info@shonemedicalsupply.com
Add: NO 388 Huixian Road Haishu NINGBO CITY , CHINA


Product name : disposable needle holder

Product No. : 20174281662
Details:
blood collection needle holder
Product description:
1) Elastic groove in holder can lock tube, insure safe blood collection.Lock the multi-sample needle short end which is with latex cover directly into holder,, insertion finish with a snap

2) Insertions finish when you push the white part of the snap.

3) After collection finished, press the button on holder, needle automatically discharge. Collector can easy finish collection without touch of needle and avoid mistake puncture.
4) It is non-dangerous products, non-flammable, non-explosive, and can be stored at room temperature.
Product feature:
Name

needle holder

Material

Medical Grade PP

Expired time

2 years

Storage

The product is non-dangerous,non-flammable,
non-explosive and stored at room temperature

Certifiate

CE&ISO13485

MOQ

10000 PCS

Supply Ability

1000000 PCS/month

Payment Term

T/T,west union ,paypal,bank

OEM

OEM is available