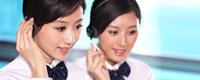 Name: JACK
Tel: +86-574-87301282
Fax: +86-574-87301292
E-mail: info@shonemedicalsupply.com
Add: NO 388 Huixian Road Haishu NINGBO CITY , CHINA


Product name : Disposable nebulizer kits

Product No. : 20161217193030
Details:
Disposable Nebulizer Kit
Brief Introduction:
Nebulizer kits are devices that are used to administer medication to people in the form of a mist inhaled into the lungs.
The nebulizers are connected by tubing to a compressor,
that causes compressed air or oxygen to blast at high velocity through a liquid medicine to turn it into an aerosol, which is then inhaled by the patient,
and the medicine in the form of a liquid solution is loaded into the device upon use.
The nebulizers are commonly used for patients in hospitals who have difficulty using inhalers,
such as in serious cases of respiratory disease,
or severe asthma attacks, it is also for ease of use with young children or the elderly.
Features:
The Nebulizer kit made from PP, in medical use.The Nebulizers have the following features:
1. 100% latex free
2. Smooth and feathered edge for patient comfort and reducing irritation points
3. Peelable pouch
4. Sterile by EO, single use
5. Approved by CE,ISO and FDA